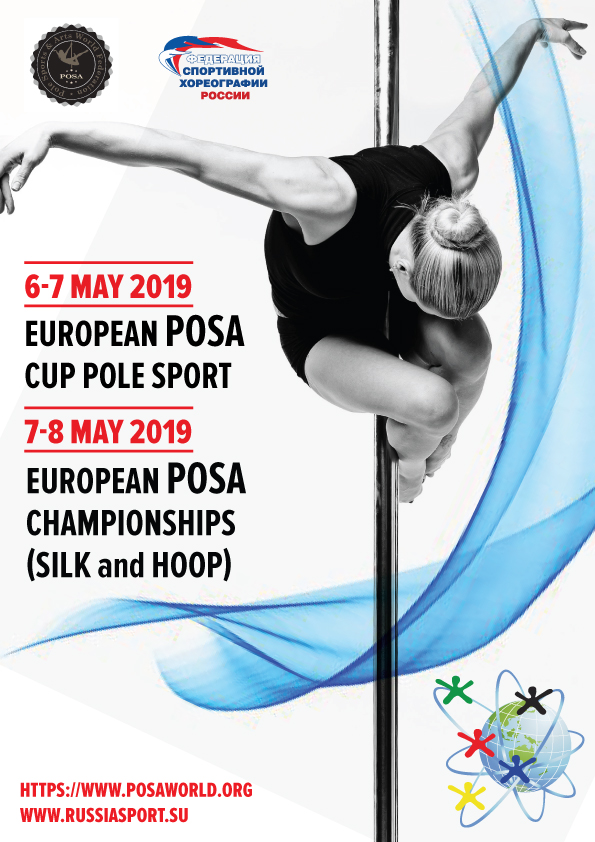 POSA European Championship and Cup 2019 6-8 of May 2019
May 6, 2019 to May 8, 2019
POSA European Championship and Cup 2019 6-8 of May 2019
Pole Sport, Silk, Hoop
Organizer. City. Venue
Russian Sport Choreography Federation (RSHF)
Deadline: Apr 30
Country: Russian Federation
City: Moscow
Street: 7/1, 5-iy Luchevoy prosek, Moscow 107014, Russia
Hall: Exhibition and Congress Centre "Sokolniki"
www.exposokol.ru/about/halls.stm
The event will be in the pavilions 4.1 see the annex
Organizer Name: Andrej Kokoulin
GSM:           +7- 925-772-60-51
www.danceolympiad.com
E-mail: ru.sport@mail.ru
Schedule
6-7.05.19 - European POSA Cup Pole Sport
7-8.05.19 – European POSA Championships (Silk and Hoop)
The final schedule will be published before 1 of May
1) Checking in till 25.04.19 on the https://posa.mgnovenie.ru/
2) Pay the competition fee according to your category to the bank account (see below)
3) Send the confirmation to ru.sport@list.ru
Competition fee
 Seniors 70 €
Juniors 50 €
Doubles 120 € (for 2 athletes)
Hotels
 Check special offers
There are five HOTELS for our guests started from 20 euro per night
Please contact evm2019@mail.ru Elena Makarova
Transfer (Meeting)
 On your prior request a meeting and bus conveyance from and to airports and railway stations will be organized. Costs of conveyance to hotels depending upon distance and number of people (for group 20 - 30  Euro):
Deadline for applications for transfer is the 27 of April, 0.00 a.m.
Please contact evm2019@mail.ru Elena Makarova
Food
In the hotel: breakfast. There is a café and a restaurant in and around it.
In the venue: hot dinners on a prior request till 27 of April, 0.00 a.m. Dinner & lunch cost: - 7 Euro.
Only! Flash is acceptable. To make sure it's better to carry the second copies.
A participant or his representative must provide a sound producer with a music medium in time (in advance). A name of a performer, his number, name of a composition, and track must be written plainly on\with the medium.
Entrance tickets
 Cost of an entrance ticket is 15 Euro (1000 Rub)
Video filming and author's rights
According to the 'Law about an Author's Right', rights for video filming and duplication belong to OLYMPIAD organizers. Convention participants transfer a right to video filming to the organizers gratis.
Safety and security of personal things
Championship organizers are not responsible for the safety of personal things and valuables of the event participants and guests.  Be attentive and watchful while leaving valuables unattended!
Championship participants which are not in the 1-3 places will be given memorable diplomas.
Insurance and medical aid
Each participant will be offered to insure himself against accidents for the time of the event by the insurance company-partner of the Convention.
During all event effective medical aid is provided.
Winners in the solo and duet nominations are rewarded with medals and diplomas, in the group's nominations - with cups and diplomas. Finalists are rewarded with diplomas and badges.
 Annex 1 The map and the venue location
Annex 2 Bank account information
 Russian Sport Choreography Federation
143900 Moscow region, Balashikha, Prospekt Lenina, d. 23/5, room XIII, lit. And RUSSIAN FEDERATION
VTB BANK (PJSC) (TSENTRALNYI BRANCH, MOSCOW)
SWIFT: VTBRRUM2MS2
RUSSIAN FEDERATION MOSCOW
Venue
Street: 7/1, 5-iy Luchevoy prosek, Moscow 107014, Russia
---
Qualification procedure
Qualified athletes